I have some fantastic wedding entertainment packages available to help make your special day one to remember. As weddings never run to schedule on the day, I will dedicate my time to fit around your schedule so that your event will be the only event i will be entertaining at that day. Otherwise if I designate you a confirmed time slot and book other shows around this, if things are not running to the schedule on your wedding day ( which is usually the case with weddings ) i will be unable to stick around due to other engagements.
So these packages i have put together from many years of experience in wedding entertainment would be your best option, and are proven to help make your special day a truly magical experience.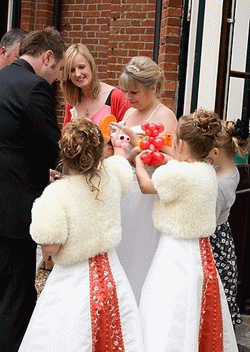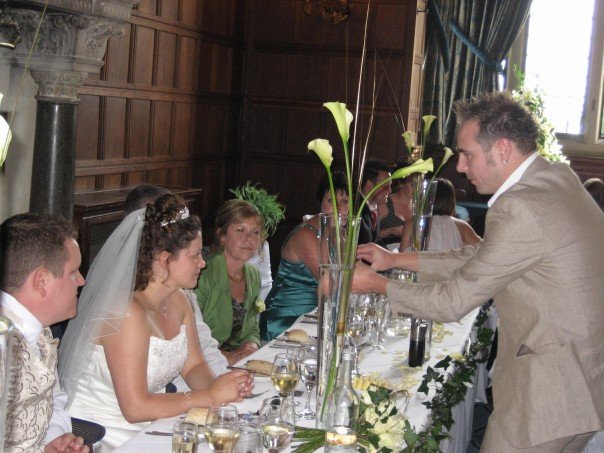 Package 1 - Photo's & Wedding Breakfast

This package is great for entertaining your guests while the photo's are taken. After the service while all the photo's are being taken, i mix 'n' mingle with your guests performing some amazing strolling magic ( or if you would prefer i could entertain all the children with a fantastic magic show ). After the photo's are taken, i then continue to entertain yourself and all your guests with my unique style of highly entertaining close up magic at the tables between courses for the afternoon Wedding Breakfast ( especially the top table ).

This fantastic package is great to keep your guests entertained during the photo's and wedding breakfast


Package 2 - Wedding Breakfast & Speeches ( Most Popular )

A special package that has proved highly successful at so many weddings, i mingle around your guests, while they are waiting to be seated for the afternoon Wedding Breakfast and perform some mind blowing close up magic, then continue to entertain everyone at their tables between courses ( especially the top table ).

As soon as the wedding breakfast has finished just before the speeches start, i whisk all the children away for a fantastic magic show & balloon modelling in another room or area while the speeches are taking place.
Which keeps both the adults and the children happy !

I have always been thanked by the Guests (they've been able to relax and not worry about their children), by the Bride & Groom and Organisers (they know the children have had a special day too), and the Venue are also always very impressed as they have had happy and controlled children.

This wedding package is great value. As most magicians charge this fee for just close up magic around the tables, you get the added bonus of keeping the children happy with a fantastic magic show and balloon modelling.

Goodie Bags for the children are priced at £1.50 per bag, you only pay for the number of bags you use on the day.


Package 3 - Kick start your evening celebrations

Why not living up that dull period in the day, early evening when all the guests from the morning and afternoon are waiting for the evening guests to arrive and the disco or band to start. Scott's unique style of close up magical entertainment is a wonderful ice-breaker and a great warm-up for the evening ahead. Intimate miracles are performed directly in front of the spectators! From adults and teens to children, everyone will be entertained with Scott's warm and friendly and exciting approach to close up magic.

This wedding package is guaranteed to be the ideal entertainment to kick start your evening celebrations.
Wedding Magician, Wedding Entertainment, Wedding Vows, Wedding Reception, Wedding Entertainer, Wedding Faye